The freelance translation is a good job for somebody who is curious, detail-oriented, and a phenomenal writer in their native language (this is the most important trait to have), but also with enough experience with their second-language culture to understand nuances and cultural references.
It's also for somebody who wants autonomy over their time and manner of working, and somebody who wants to be location-independent.
A booming industry
The translation industry is expected to grow to a $56 billion industry by 2021. But with machine translation, massive global agencies, and AI experiencing a growth spurt, freelance translators have to be more strategic to stand out.
On one hand, the at-scale, commoditized part of the profession is very present. You'll find translation at this level competes on price and is traded like if it were oil or salt.
Psst... Can a text message help you reach $100K as a freelancer? Find out here...
There are a lot of translation agencies at this level that will pressure the translator and expect "high-quality" (a myth at this level of translation), by yesterday, for slave rates.
But don't let that scare you away. That's not the entire industry. On the other side of the coin, savvy business owners are desperate for the high-touch attention and skills that hyper-specialized freelance translators can offer to solve their linguistic problems.
Here's how to get started.
First, we'll talk about where to find jobs to get started. Then we'll discuss types of freelance translation jobs, how to become a translator and how to position yourself right.
Top 12 freelance translation jobs sites
So you're ready to start looking for work-at-home freelance translation jobs.
If you aren't ready to approach direct clients yet, you can use online job portals to find translation jobs.
Here are the top websites to start finding your freelance translation jobs.
1. Your own website
This isn't a freelancer portal, but bear in mind that creating your own freelance translator website can help your applications on other job portals. Many of the portals will ask you for your website or LinkedIn profile, and the translation agencies you're applying for are looking too.
Make sure you have your website or at the very least an up-to-date and attractive LinkedIn profile. That'll help you when applying to the rest of the websites below.
Price: Free – $1k
2. ProZ.com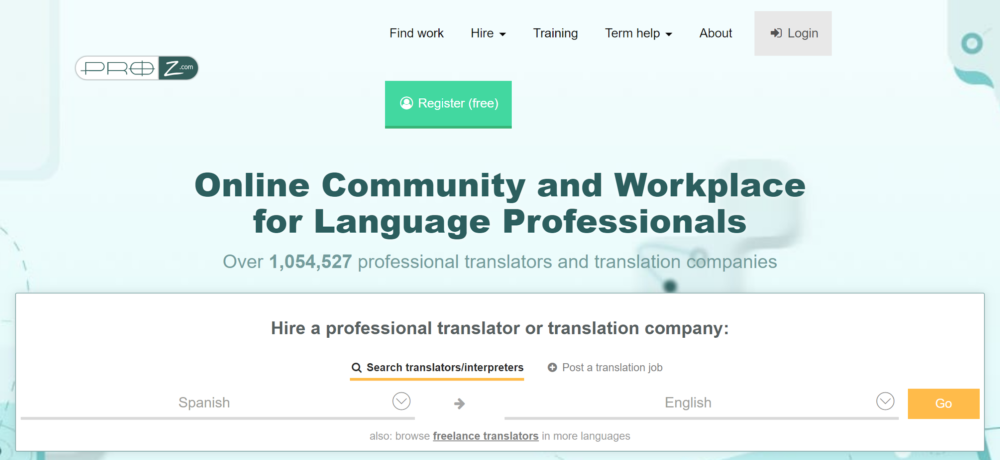 ProZ.com is the largest marketplace for language professionals.
You'll find a bit of everything here. The platform has a lot of features, including invoicing, forums, and some courses, but the main reason freelance translators join is for the jobs board.
There you can bid for jobs, which are posted daily if you have a common language pair like mine (Spanish & French into English). Bidding for jobs shouldn't be your long-term acquisition strategy, but it's a good place to start.
If you get the paid membership, you can use their BlueBoard, which is a board that rates outsourcers (translation agencies, also called LSPs) based on the experience working on them. This is a great place to look up agencies before bidding to work with them.
If you're starting out, I think a paid membership is worth the cost to start gaining traction.
Price: Free 0- $159 yearly membership
3. Facebook Groups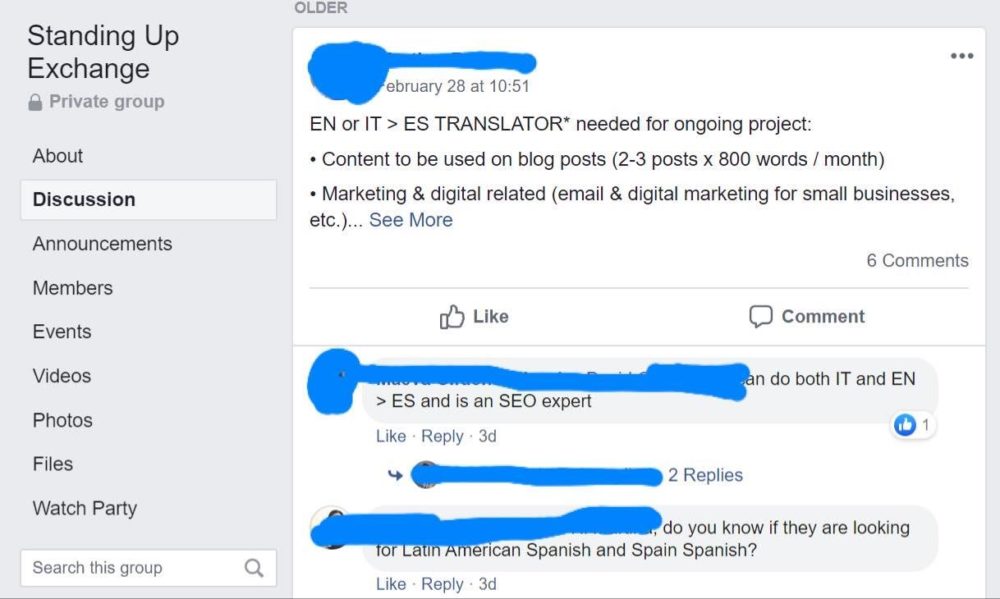 Facebook groups are one of my favorite ways to get freelance translation jobs. There are lots of ways you can use these groups to grow your business.
For one, there are groups specifically for translators to give jobs to other translators. This happens a lot, especially given that all translators work in a specific language pair and specialization, they can't always take on what clients ask them to do.
When you look for a group, make sure to read the group rules thoroughly. Some are only for fun, others exclusively for support, and others are for posting/looking for jobs.
If you live somewhere fairly cosmopolitan, you can also look in your local "[City] ex-pat" groups. I've found lots of translation work through Facebook Groups.
Price: Free
4. LinkedIn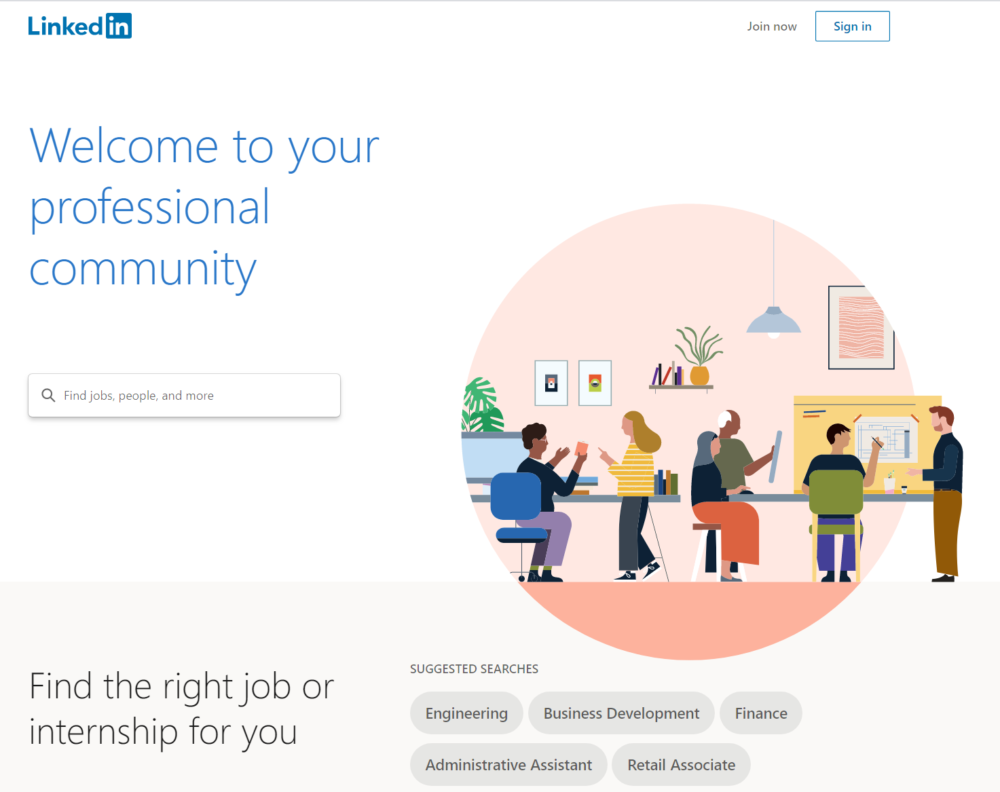 LinkedIn is surprisingly underutilized by translators, but it's the perfect place for them to find clients.
The trick to succeeding on LinkedIn is to understand the Golden Rule: it's not a place to publish your CV and then wait. It requires your active participation to work, not unlike a gym membership (and all social media).
You can do this by either actively connecting and talking with people, commenting and engaging with other people's content, or posting your own content.
Price: Free
5. TranslatorsCafé
TranslatorsCafé is another marketplace/bidding platform for finding translation jobs.
This platform takes some weeding of the poorly paid jobs. It's sort of like second-hand shopping. You spend some time looking through the offers and maybe you'll get lucky with a good job.
If you're starting out and just looking for experience, this may give you some additional opportunities.
Price: Free to $80 yearly membership
6. TextMaster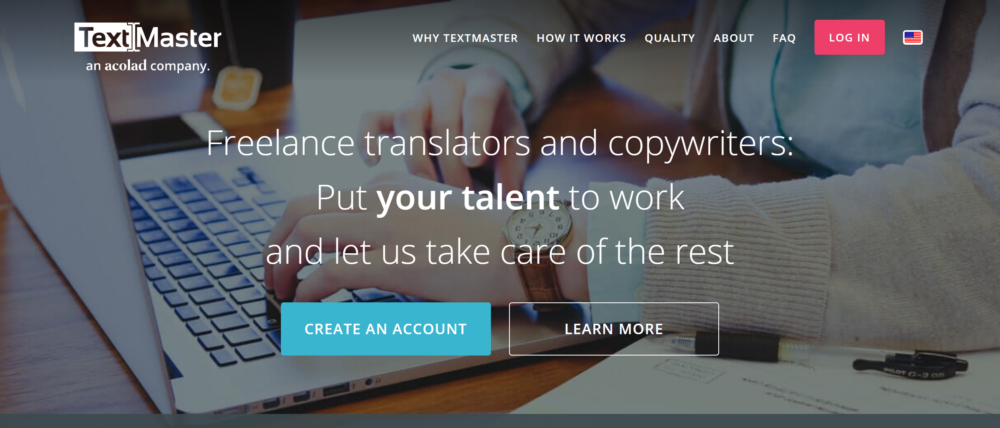 TextMaster is a translation agency with 3 tiers of translation rates. The highest they pay is $0.18, which is for 'pro' translators working in luxury goods, SEO, financial & legal translation, among others.
You'll have to get verified by them and use their proprietary CAT tool. If you can't get into their 'pro' ranking, the pay isn't wonderful, but it's a good place to start.
Price: free
7. VerbalizeIt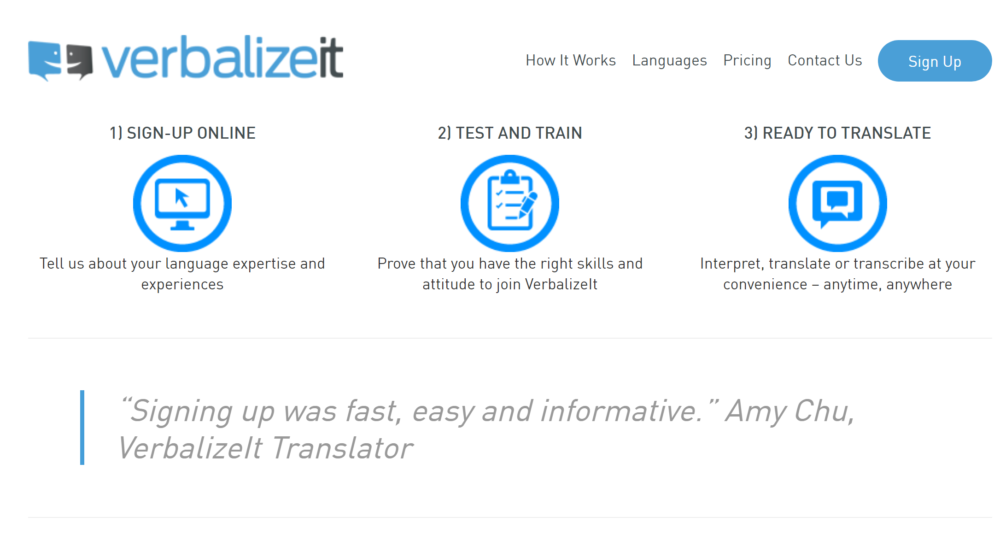 VerbalizeIt is a self-proclaimed human-powered translation agency. You just sign up, take a test, and if you pass you then wait to get notified of jobs that fit your profile.
What's nice about this one is that you get paid every two weeks, which is useful for lots of translators who might otherwise be chasing payments.
Price: free
8. ATA Directory or your local association
The American Translator's Association is one of many official translator associations worldwide. When you join one, you not only demonstrate your dedication to the profession and development, but you also join a community and get listed on the directory (where clients can look).
Choose an association that's relatively near where you are (location matters) so that you can attend events and benefit more from them. They're based on location, sometimes languages, sometimes specialization.
Price: varies
9. Bureau Works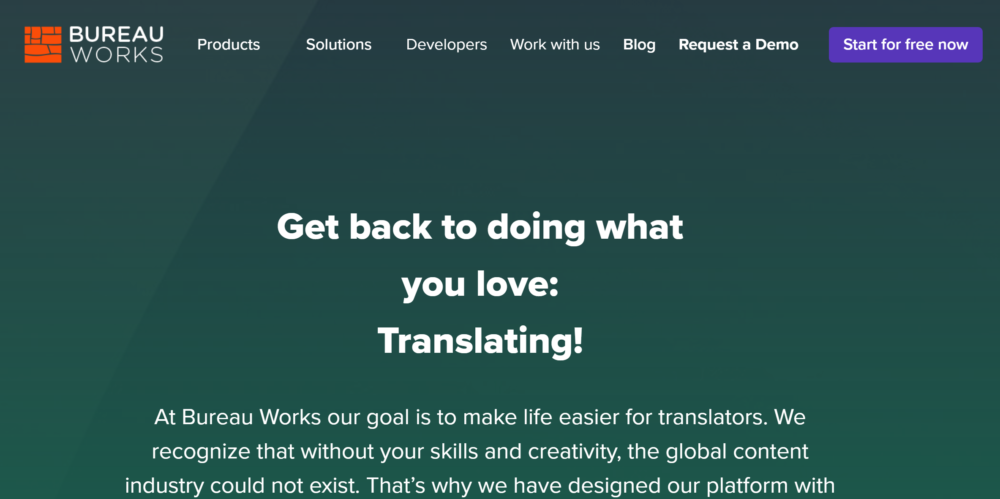 Bureau Works offers its clients full-service localization, all the way from its powerful proprietary technology to actually offering the translation service. It hires translators regularly.
You'll work directly through the platform. As you work with them, they start to extract data from the reviews so that they know which jobs best suit you. They have clients like Uber and Harley Davidson and localize around a product, tech, and more.
Price: Free
10. TheOpenMic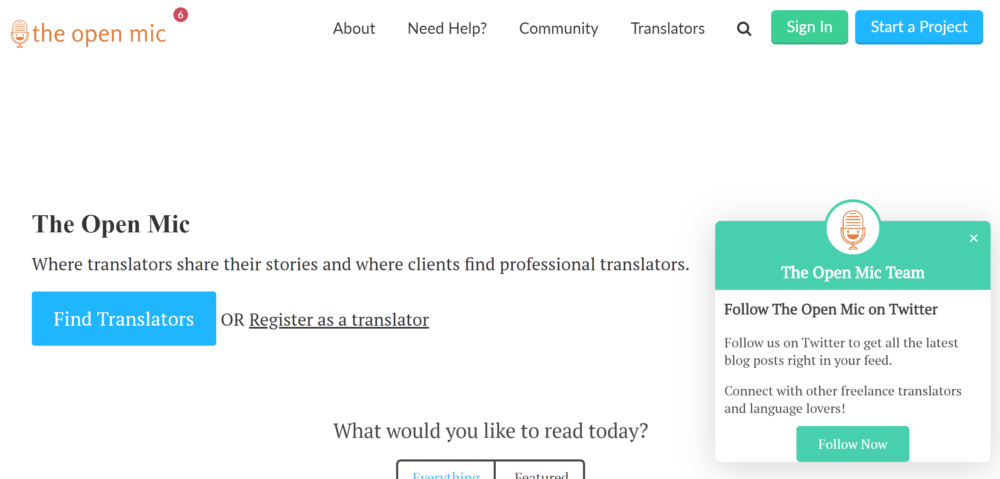 The Open Mic is more of a publication platform than a marketplace.
But when you make a profile and people look through the directory, they can see the content you've published and how much of an expert you are. Plus, you can use this to get a link back to your own translator website.
11. Smartling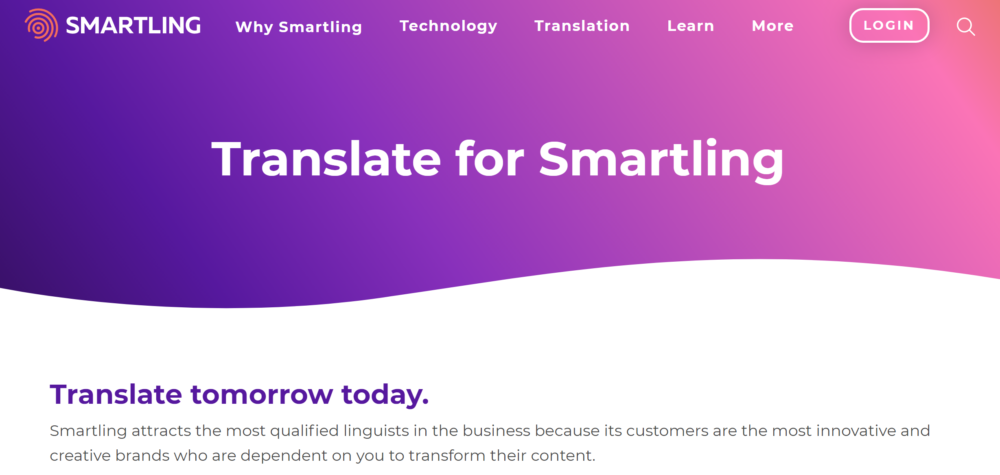 Smartling is another platform that focuses on using proprietary localization technology to translate for innovative startups. Its founder used to be a translator. There's always a higher level of understanding and respect when the business owner knows what it's like to be a translator and understands the process.
You have to go through a translation test to begin working with them.
12. TranslationDirectory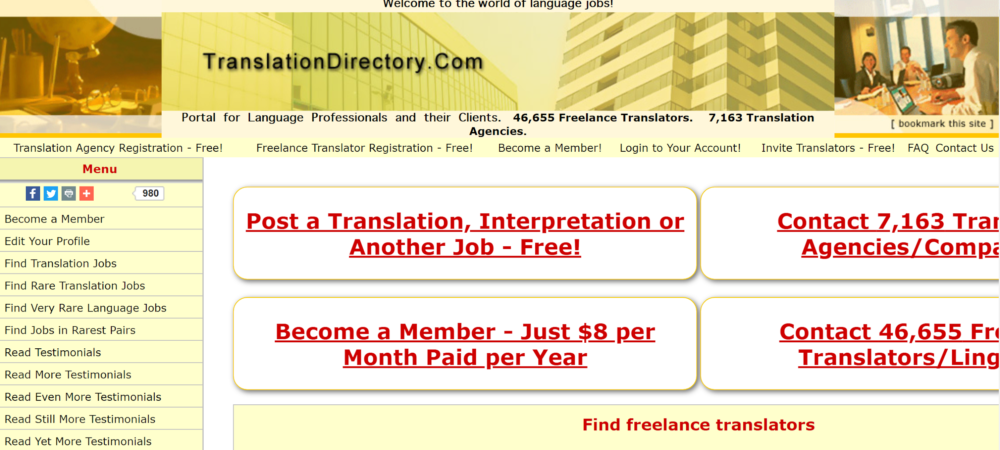 If it looks like this website hasn't been updated since floppy disks were still a thing, well, that's because I think it hasn't.
In any case, TranslationDirectory is another place translators can find jobs. They have over 7,000 translation agencies in their directory, so you could also browse through that to find agencies to email.
Types of freelance translation jobs
The types of freelance translation jobs vary about as much as types of professions.
As technology advances and automation improves, translators are being pushed to specialize.
Some do specialize in rare language pairs while being subject-matter generalists, but the majority choose to become subject-matter specialists.
Here are some examples of types of industries that require a lot of translation and what kind of translation work you'll find there:
Marketing: websites, brochures, landing pages, sales copy, drip campaigns, blog articles, social ads, Google ads, advertisements, and more.
Tech: apps, APIs, website localization, technical pitch decks.
Law: contracts, court transcripts, patents, legislation, litigation, academic texts, privacy policies, and more.
Health: clinical documents, patient reports, academic texts, NGO reports, and more.
Food & beverage: restaurant menus, bodega websites, product sheets, wine labels, and more.
Literary: fiction, non-fiction, self-help, any kind of publication.
Academic: research papers, dissertations, journal entries, reports, and more.
Business: articles of association, pitch decks, business presentations.
Finance: profit and loss reports, annual reports, financial presentations, and more.
Even within each sector, it's unlikely you can specialize in all or even many of the types of documents. Figure out which one of these you know best and enjoy doing.
If you've already worked in one of the sectors, that's your best bet, because you'll know the lingo they speak. It's okay to experiment, and every career takes a different path, but most established translators will agree that specialization is key.
How to become a freelance translator
Becoming a freelance translator with no experience takes some preparation and sometimes, some savings.
First, you need more than just knowledge of two languages. To be a successful freelance translator, you need:
Excellent writing skills in your target language
Empathy and the ability to read between the lines
High attention to detail
Organizational skills
An ability to generate business — through networking, marketing, relationships, or excellent customer experience
A good computer
Timeliness
Some knowledge of technology
Many translators choose or are required by their clients to use computer-assisted translation (CAT) tools, which breaks the text into segments. They save translated segments into translation memories (TMs) and are meant to help productivity.
But how do you actually become a professional translator?
There's no one way.
Some people start as their first career, beginning with a bachelor's degree in translation and with no experience outside this profession.
Others come from long careers in other disciplines.
How you come into it also depends on which sector you're going to translate for and how client relationships are structured in those sectors.
Here's one suggested path to start getting paid freelance translation jobs:
Start by doing some free (non-commercial) translations for NGOs or volunteer organizations. Try to get some feedback on your translations.
A degree isn't essential, but it's a big plus. If you decide not to study translation officially, you still need to learn translation techniques.
Find texts online in the subject matter you want to specialize in and translate them. Compare them to other, official translations and learn how to improve.
If you have the resources, pay another translator to review your work and give you feedback.
When you have a small portfolio going, you can start applying for jobs at the above websites.
Create a website or at the very least a ProZ.com or LinkedIn profile. Make it good and use copywriting best practices. Clients will look you up when you pitch to them or meet them somewhere.
You can also start marketing yourself from those platforms.
Start meeting people locally and spreading the word that you're a translator.
If you were in another profession before, contact your network and let them know you'll be offering translation services from now on.
Freelance translation is a very versatile job
One day you can find yourself translating the property description of a luxury ski chalet in the Alps, and the next day you'll be translating a press release about launching a cornet of french fries into the stratosphere.
You learn lots of random things and become a lifelong student of the world. Plus, you can do it from wherever you want. And if you take the right steps, you can also work on projects you find fulfilling and with clients with whom you share great mutual respect.