Adding a visual killer - attractive elements to your written content as a business entrepreneur, Social media influencer, Public relations personnel, or an Ads creator doesn't have to be a problem or an hindrance to professionalism. But adding this visual elements to your written content can feel like a major time-suck, especially when you don't have any design skills to lean on.
1. Canva: Canva is an all-in-one tool for novice creators. It's one of the best design apps to use when you're on a budget. The web-based app comes with a template for everything from Facebook posts to wedding invites, resumes, and logos.
Where I think Canva really shines is in the realm of social media graphics. They have a ton of free templates you can customize with your own copy and images. Start with a template, then fill in the boxes to suit your needs. While the tool is free to use, some templates, elements, and stock photos cost a dollar or two apiece. What's nice about this pricing plan is, you can pay for "premium" graphics instead of committing to a monthly plan you don't necessarily need.
2. Adobe Spark: Adobe Spark is a winning combination of simplicity and power. The app differs from other Adobe offerings like Photoshop and Illustrator in that there's  virtually no learning curve. All you do is log in, and choose from a selection of Spark's professional templates. They've got pre-sized social templates, posters, as well as web pages and video options. Once you select an option, you can customize by adding your own photos or one from Adobe's royalty-free library. 
Basic features are free, while the full lineup is available for $9.99 per month or as part of the $19.99/month Creative Cloud Subscription. 
Adobe Spark brings something more to the table than some of the other items we've listed. With the video and web design tools, plus photo collages and social templates, non-designers finally have access to a creative suites that does more than add text to an image. 
3. Logopit Plus: It is a comprehensive app that lets you create your own logos or business images without any need for complex design tools. If you're looking for a quick solution or you're not looking for anything too elaborate, this app gives you a ton of predefined elements and editing tools to combine however you want.
The first thing you have to do to start creating your logo is decide the size of it. Here, Logopit Plus lets you choose between the specific sizes for YouTube or Twitter cover images, Facebook posts, posters, or flyers among other options. Whichever option you choose, you'll get a custom blank image for you to start creating.
4. Klex: Want to create beautiful graphics at warp speed? Well, Klex has got you covered. This application is best used to customize visual assets with stock photos, vectors, and illustrations, and add in text, fonts, and backgrounds that meet your needs. Add your own photography or use the stock photos they provide. What I like about Klex is this platform gives you some space to mess around with a whole host of effects. It's also not hard to use.
Klex uses the same technology behind Gravit Designer, but the aim here is to give users something much easier to work with. The app includes templates for everything from properly sized social graphics to posters, cards, and blog graphics.
5.Desygner:  Desygner is one of the best web-based apps for graphic design. The process is much more smooth than you'll find with some of the other apps, such as Pixlr, which can feel a little clunky at times.
Where Desygner shines is in its mobile functionality. It's perfect for social media users designing on the go, as Desygner has virtually eliminated the frustrating dragging and pinching process you'll find in other tools. We like that there's a web app and a mobile version, as this potentially can save you a lot of time if you're sick of wasting time on graphics when that's not your main job, or it feels like a chore. But as far as features go, this app is similar to Canva, but not as robust. Meaning, you do miss out on some features, but you also get a simplified experience where you can rearrange items, add layers, text, and customize photos with ease.
Desygner is free but offers a $6.95 monthly plan for access to more templates and features.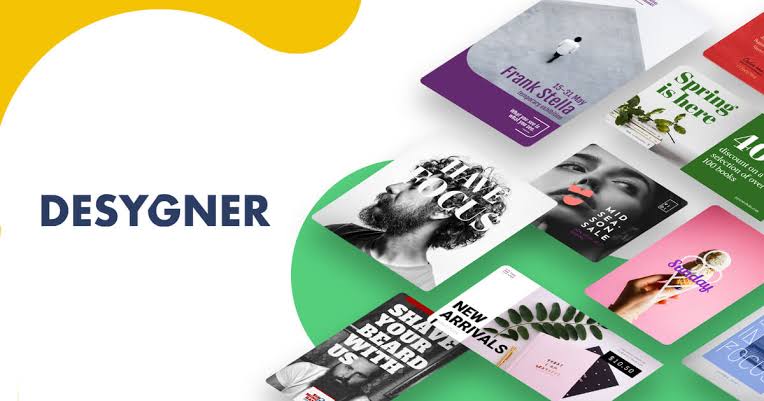 Put Your Design Skills to the Test.....
Now that you've got a whole list of tools to take for a spin, it's time to start filling your feed with top-notch visuals. Still, all the apps in the world won't make up for real-deal design know-how. Here, we've rounded up a list of the best online design course bundles built to get you up to speed fast.