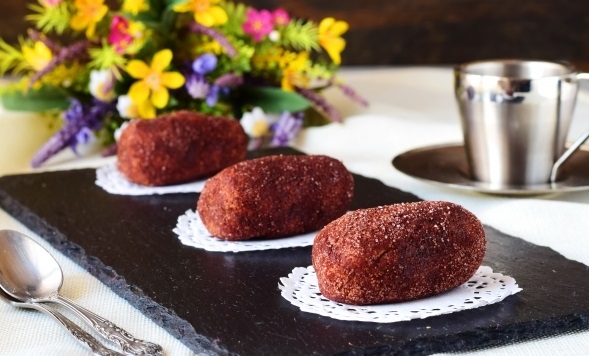 Ingredients
Butter cookies - 500 g
Condensed milk - 1 jar
Butter - 200 g
Cocoa powder - 2 tbsp.
Sugar - 2 tbsp.
Potato cake made from cookies and condensed milk is my favorite cake from my childhood, though, after the custard cake. It was very inexpensive at the time, and it was unbelievably delicious!
These cakes are easy and quick to make at home, and the hardest part is not to eat them before they are frozen in the fridge.
So, let's prepare the products according to the list.
Ingredients for the "Potato" cake made of cookies and condensed milk
In a bowl mix melted butter and condensed milk.
Combine the butter and condensed milk.
Mix butter and condensed milk well with a fork.
Mix the butter and condensed milk.
In a food processor or blender, crush the cookies until crumbly. You can also just crumble the cookies with a rolling pin.
Crumble the cookies
Add the cookie crumbs to the bowl with the rest of the ingredients.
Mix cookies with butter and condensed milk.
Knead the mixture well with a fork.
Stir the mixture.
At the end of kneading help yourself with your hands. This is how we make dough for cakes.
Roll out the mass into a ball.
In a separate bowl mix sugar and cocoa powder. With your hands shape the dough into cakes in the shape of a potato. Roll each brownie in a sprinkle of cocoa and sugar.
Dip brownie in cocoa sugar.
Place the finished cakes on a cutting board or plate and place in the refrigerator for 25-30 minutes to make the cakes denser.
Cooked Potato Brownies with condensed milk
The "Potato" Fudge Cakes made with cookies and condensed milk are ready! Serve the cakes with tea or a glass of milk.
Foto Potato Cake made with condensed milk and cookies
Taste of childhood! Bon appetit!