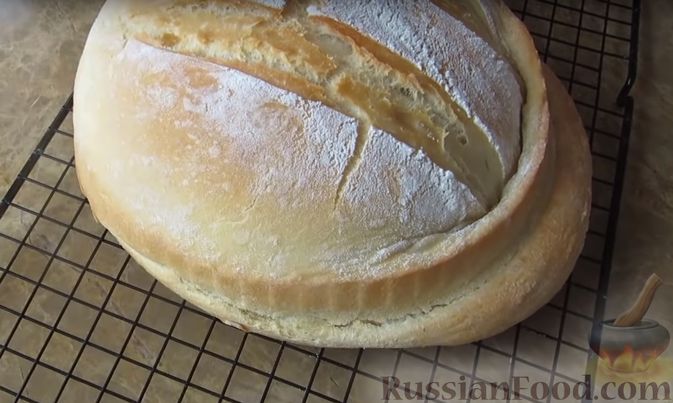 Products
Wheat flour - 500 g
Water - 350 ml
Vegetable oil - 3 to 4 tablespoons
Dry yeast - 1 tsp. no slice
Sugar - 1 tablespoon
Salt - 0,5 tsp.
The products are the simplest, and their minimum. Let's prepare everything and start.
First of all, we check and activate the yeast. We make a quick sourdough. In the flour (in the depression) pour warm water, pour sugar and yeast. Lightly stir, adding a little flour, and let the brew stand for 20 minutes (you can cover it with a towel or film).
After that, add vegetable oil and salt to the sourdough. Knead the dough. At first, the dough will be very sticky - do not add flour, do not clog the dough. To make it easier to knead, lightly grease a tabletop with oil (0.5 tbsp). A few minutes of kneading and you'll have a great dough. Let the yeast dough stand under a film in a warm place for about an hour more.
The dough will rise perfectly.
Lightly dust the table with flour and knead the dough in several folding motions. We leave it for about 10 minutes. Then knead the dough in the same way once more. You can add a little flour, if the dough is sticky, but do not mix it in.
Shape the dough into a ball and place it on a baking tray, greased with oil and sprinkled with flour. Sprinkle the dough on top with flour, cover with a linen towel and allow to proof at 22-25 degrees for 20 minutes.
Make a couple of notches on top of the bread.
Now for the fun part of this recipe. Cover the dough on the baking tray with a glass baking dish (my shape is 20 cm in diameter).
Let's put the bread under the mold into a cold(!) oven, turn it on, set the temperature to 200 degrees, and bake the rustic bread in the oven for 40 minutes.
Finished homemade bread cool on a rack. My bread even lifted its shape, and it turned out a bread cap. :)
The aroma from the oven makes for an extra cozy home! I love homemade bread and I recommend it to you!
Translated with www.DeepL.com/Translator (free version)