Gaming laptops are laptops that are designed specifically for playing video games. They are typically more powerful than regular laptops and are equipped with high-end graphics cards, processors, and other hardware components that are necessary for running the latest and most demanding games. We know that every now and then the list of the best gaming laptops changes. So in this article we are going to be discussing the top 5 best gaming laptops in 2023.
The Razor Blade 16
1. RAZER BLADE 16
Top on our list, we have the Razer Blade 16. According to research, it is said to be the best dual-mode gaming laptop. This beast of a device is packed with some serious power and a panel that makes gaming very interesting. It includes a Core i9-13950HX, 32GB of RAM, 2TB SSD and a top-end RTX 4090. Both storage and RAM are upgradeable. At 5.4 pounds, it's barely heavier than the 16-inch MacBook Pro with M2 Max; which is very much impressive for a full-tilt gaming laptop considering the large frame rates the Blade will deliver. It is thinner than many monstrous gaming laptops that will include the RTX 4090 chip.
This particular model is quite exciting because it has one of the best displays ever seen on a gaming laptop, yet very expensive. It costs like about $4,299.99. You can check on razer.com or amazon.com to get yours now.
The Razor Blade Specs
13th Gen Intel Corei9-13950HX, 24 cores / 32 threads, 5.5GHZ, 36MB cache
Nvidia Geforce RTX 4090 laptop GPU (16GB VRAM)
2TB SSD (M.2 NVMe PCle 4.0), expandable up to 4TB
32GB dual-channel DDR5-5600MHZ, expandable up to 64GB DDR5-5200MHZ
13.98 x 9.61 x 0.87 inches (355 x 244 x 21.99mm), 5.4 pounds (2.45kg)
PROS
Dual-mode Mini LED 16:10 screen
It is very beautiful and portable
Very powerful
CONS
It is very expensive
It's battery life sucks.
Mixed productivity performance
ASUS ROG Zephyrus G14 - the best 14-inch gaming laptop. 
2. ASUS ROG ZEPHYRUS G14
Next on our list, we have the ASUS ROG Zephyrus G14. It is well-known as the best 14-inch gaming laptop. This version of Zephyrus G14 is well balanced and has an excellent gaming performance. Its AMD Ryzen 9 processor and GeForce RTX 3060 can push powerful, smooth graphics performance in games with its QHD display while also being useful for other tasks. It delivers 8 cores and 16 threads of the Zen 3+ architecture, capable of boosting to 4.9GHz. It has an all-day battery life, which you don't see in so many gaming laptops. Isn't that crazy and yes, it also has a webcam.
Unlike the razer blade 16 which is very expensive, the ASUS ROG Zephyrus G14 is quite cheaper. Infact at best buy, you can get order one for $1650. Check amazon.com to order yours.
The ASUS ROG ZEPHYRUS G14 Specs
AMD Ryzen 9 6900HS with a GPU of up to AMD Radeon RX 6800S
32GB DDR5-4800 RAM
14-inch IPS 1600p @ 120Hz screen
1TB SSD (NVMe PCle 4.0)
12.28 x 8.94 x 0.73 inches, 3.79 pounds (1.719 Kg)
PROS
All-day battery life
Bright, QHD, 16:10 screen
Good performance for its price
Its battery life is impressively good.
CONS
These 14-inchers are quite hefty and substantial.
.Regrettably, there aren't any attractive lights.
The Lenovo Legion 5 Pro
3. Lenovo Legion 5 Pro
Coming up next is the Lenovo Legion 5 Pro. Guys, this one's no joke at all. It is said to be the best affordable 17-inch gaming laptop. The Legion 5 pro is no doubt the best gaming laptop Lenovo has ever manufactured. It features a 17-inch QHD display, the RTX 3070 graphics chip, AMD's Ryzen 7 5800H and its supports expandable storage and RAM. 
Appart from its impressive performance, the Legion 5 Pro boasts a standout feature: its 16:10 screen. This is a rare find in the gaming laptop market and provides you with ample space for multitasking, making it and ideal choice for everyday use. The keyboard is another highlight of this laptop, with a 1.5mm travel distance and four-zone programmable backlightning, providing a satisfying typing experience.
The Legion 5 Pro is also quite cheap. For a very reasonable price of less than $2000, the 16-inch chassis of this laptop offers both impressive performance and an appealing design, thanks to AMD's Ryzen 5000 processors. Check lenovo.com or amazon.com to order.
The Lenovo Legion 5 Pro Specs
Model: 82JQ008NUS
AMD Ryzen 7 5800H processor (up to 4.4GHz, 8 cores)

Nvidia GeForce RTX 3070 GPU with 8GB GDDR6 VRAM

16GB DDR4 3200MHz (user-replaceable up to 32GB)
512GB NVMe SSD (user-replaceable)
14.02 x 10.41 x 1.07 inches, 5.4 pounds
PROS
It has a very excellent performance
Generously-sized display with a 16:10 aspect ratio
User-upgradable RAM and storage
CONS
While the Zen 3 CPU performs well, its battery life is only average.
Its storage fills up so fast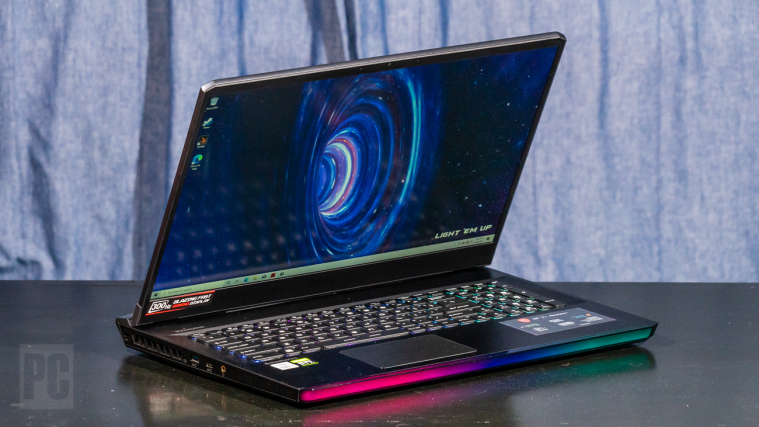 The MSI GE76 Raider is a very colourful and powerful gaming laptop.
4. MSI GE76 Raider
At number 4 we have the MSI GE76 Raider. This laptop is termed the flashiest gaming laptop. The GE76 Raider is a colourful, powerful laptop with a premium price. You can customize it to include Nvidia's top-tier mobile GPU and Intel's most powerful processor. For most people, we would recommend a QHD screen as it can fully utilize the hefty specs. However, if you prioritize a high refresh rate, the 1080p 360Hz display could also be a great option.
This revised version clarifies that the QHD screen is the preferred choice due to its ability to take full advantage of the device's specifications, but also acknowledges the value of a high refresh rate for those who prioritize smooth visual performance.
If you're primarily looking for a device that can handle high-performance gaming, this laptop should suit your needs. However, it's worth noting that the battery life is only mediocre, and the chassis is somewhat thick and heavy, which may not make it the best choice for those who need a portable work driver. Designed for hardcore gamers, the MSI GE76 Raider is a striking and vivid notebook that boasts top-of-the-line gaming components. Admittedly, its size and weight may not suit everyone, and the battery life is somewhat limited. Nevertheless, it packs a powerful punch and delivers exceptional gaming experiences. You can visit walmart.com or amazon.com to get yours now.
The MSI GE76 Raider Specs
Intel Core i9-12900HK

Nvidia GeForce RTX 3080 Ti

32GB RAM with 2TB storage

17.3-inch display, 1920 x 1080, 360Hz, 15.63 x 11.8 x 1.02 inches, 6.39 pounds.
PROS
It has a very good webcam
Very large number of port-selection
Unmatched gameplay
CONS
It is really big and heavy
It has a short battery life
Its screen is very much expensive