1. Emirates palace, Abu dhabi.
When it comes to luxury hotels, it tops the list. The construction of Emirates Palace cost about 3 billion. There are 394 luxurious rooms, 40 meeting and conference rooms. Emirates palace is a luxury 5-star hotel in the United Arab Emirates operated by mandarin oriental from 1 January 2020. The hotel project was launched in December 2001 and was initially run by Kempinski from opening in November 2005 until 1,January 2020. Which has hosted celebrities of leaders including VIPs, president and leader's. One night in this 3 bedrooms palace sweets you will get 55 thousand Dirhams.
This three bedroom sweet palace is your private palace. If you are lucky enough to step inside this palace then maybe you are a world leader of celebrities or someone who has the best way of life Enjoy. Its total area is 686 square meters. Palace sweets represent luxury in its finest style with a spacious space, beautiful dining room and 3 bedrooms that VIPs can be sure they get a safe and good sleep.
The doors are bulletproof and noteworthy, as well as a beautiful elevator that will take you quietly to any destination. 24 hours service is provided to fulfill your request. If you go to a palace like beautiful, luxury and sightseeing, you will love it.

2. Rancho valencia resort & spa, California.
Among the rolling mountains of Southern California, Rancho Valencia Resport & Spa California offers its own world-renowned tennis program as well as a special program in the environment. Offers beautiful food and refreshing spa as well as year-round beautiful climate Rancho Valencia is the perfect place to explore the Southern California area.
The property completed 30 million renovations in 2013, including hand-painted tiles and custom furnishings with a brand of redesigned guest casitas.
It is surrounded by lush landscapes, with numerous recreational areas, including an outdoor kitchen, magnificent pools and numerous dining and seating areas. Rancho Valencia is 5860 square feet and is a beautiful place perfect for walking Especially suitable for family and friends.
3. The westin excelsior, Rome.
Built on January 17, 1906, in the Westin Excelsior Via Veneto district, the city has its ancestry. Decorated at a cost of 7 million, the luxury spans two full floors, making it Italy's The largestite with the state of the art gadgets, high-tech, fitness area, the jacuzzi and a regular dining room.
Decorated in the old style Excelsior, one of the first modern luxury hotels built in the Italian capital, opened its doors to boost the prosperity of the more than a century an old school. They stayed in Regal Halls and spacious rooms where many elites and celebrities are hosted and VIPs are happy with the service.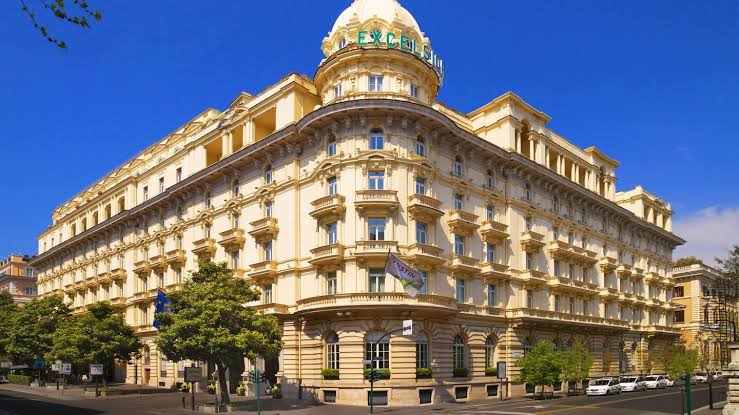 4. Burj al arab, Dubai.
The stunning architecture of the Burj Al Arab Hotel in Dubai makes it one of the most iconic in the world. In addition to the unique and the top amenities like the attached helipad and hovering tennis court, there is a wide range of dining and nightlife options.
It is the only 7-star hotel in the world, it cost over 1 billion to build and is located on its own island. It is the seventh-largest hotel in the world. This suite of 780 square feet is decorated with 24 carrot gold.
These suites also have a private cinema. In this hotel you will find everything you need, but if you want to stay in this hotel, let me tell you that the cost of one night here is 28 thousand dollars. Whoever I am is treated like a King or Queen.
5. The plaza hotel, New york.
While the Big Apple has many legendary and charming hotels, The plaza is often the top choice for VIPs. Has a regular dining room, a library, a gymnasium, a grand piano, full kitchen (for private chefs) and is self-serving.
Private Elevator Service Butlers are also included. The hotel has beautiful lanterns and this style is very traditional in terms of guest rooms. Here in the plaza you enjoy the benefits of extra VIPs. If you go to New York for sightseeing, this plaza will be a great place to relax and unwind.
        Conclusion
A very good service is provided in these hotels. Of course, you will be very lucky if you step into these hotels. Once you visit these hotels you will get to lost in the world of your dreams, and you will never want to leave. In the eyes of the world no matter who you are but in their eyes you are VIPs and their butlers treating you like King or Queen.