If you have been following any recent news cycles, you will know that a new coronavirus started making headlines at the end of 2019. Now, reports about the scope and reach of the virus are a daily part of the news cycle, and for students -- especially those studying abroad -- it is important to stay informed. Here's what students need to know about the coronavirus, the world's response, and what to expect in the coming weeks and months ahead. 
1. What you need to know 
According to the World Health Organization (WHO), "Coronaviruses (CoV) are a large family of viruses that cause illness ranging from the common cold to more severe diseases such as Middle East Respiratory Syndrome (MERS-CoV) and Severe Acute Respiratory Syndrome (SARS-CoV). A novel coronavirus (nCoV) is a new strain that has not been previously identified in humans." This means that, in general, the human population has no acquired immunity to the new coronavirus and while most people who contract the virus will experience no or mild symptoms, some people will develop severe or even life-threatening symptoms.
The coronavirus --  labeled as COVID-19 by WHO -- was first identified in the city of Wuhan in the Hubei province of China in December. Since it first emerged in China, COVID-19 has spread around the world and has now been identified in at least 157 countries. Researchers suspect the virus originated in an animal population - likely bats - and was transferred to humans via a secondary source. Symptoms include respiratory issues, fever, cough, shortness of breath and breathing difficulties. In more severe cases, infection can cause pneumonia, severe acute respiratory syndrome, kidney failure, and can even be fatal. 
How can you prevent the spread of coronavirus and avoid infection? WHO recommends washing your hands regularly; covering your mouth and nose when coughing and sneezing; and cooking meat and eggs thoroughly. Most officials are recommending that people with symptoms stay home and self-isolate to avoid spreading the virus to others. In many countries, governments and medical communities have advised all people - with or without symptoms - to stay home and avoid large gatherings to prevent the spread of the disease, and some countries are temporarily shutting down schools and universities, as well as other facilities and restricting travel.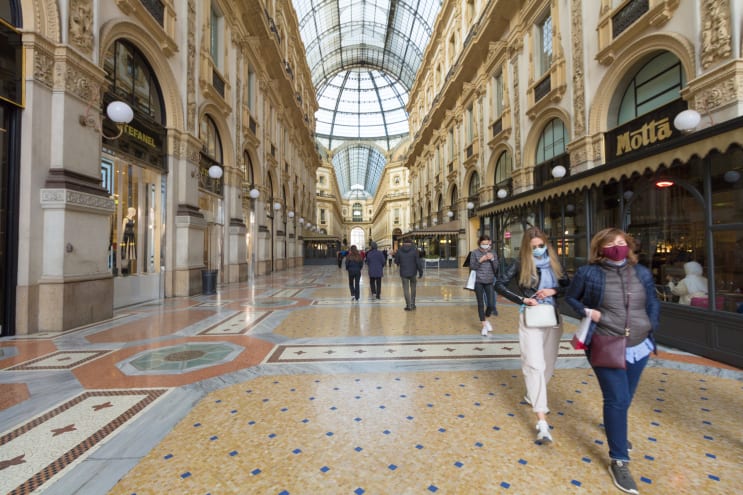 These measures are part of a widespread effort to slow and reduce the spread of the virus so that healthcare systems can provide thorough treatment and allow researchers, medical professionals, and government officials time to develop treatments and implement public health protocols. To best "flatten the curve" -- a graphical representation of reducing the exponential spread of the virus -- officials are urging people to stay at home.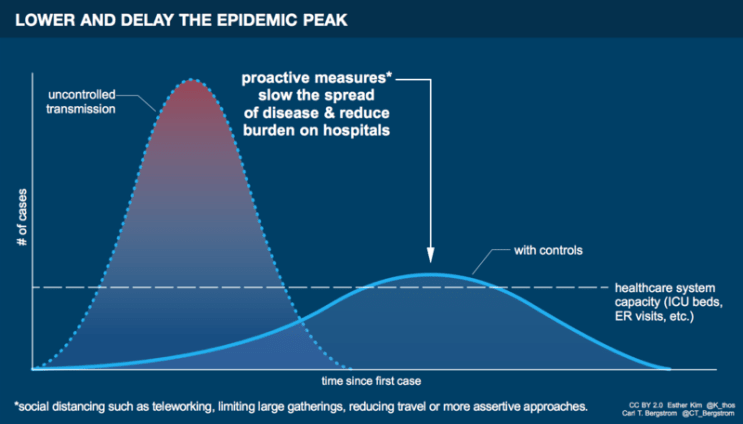 While no vaccine exists yet for COVID-19, the National Institute of Health (NIH) in the United States reports that scientists are working on "a Phase 1 clinical trial evaluating an investigational vaccine designed to protect against coronavirus disease 2019 (COVID-19) at Kaiser Permanente Washington Health Research Institute (KPWHRI) in Seattle." Other countries have also stepped up their research and are working hard to develop a vaccine as soon as possible. Researchers have already started some human trials, though it likely will be many months before a vaccine is available worldwide.
The good news is that healthy young people -- college or university students like you -- are at low risk of contracting the virus, and if you do, the symptoms are milder. However, you can be a carrier of the virus without even knowing it so students are still encouraged to take the necessary precautions to protect themselves and prevent the spread of the virus to those more vulnerable. 
2. Best practices and social distancing
As a college or university student, especially international students studying abroad, there's a lot of information to consider, and you'll want to make sure you stay informed and up-to-date. Many of the top universities and colleges around the world are encouraging students to stay home, many have canceled in-person classes and are shifting courses online and into the virtual classroom.
In the US top academic institutions are closing campuses across the country. Harvard University is among the many who are making tough decisions to close campuses and cancel in-person classes. "The decision to move to virtual instruction was not made lightly," Harvard's President Lawrence Bacow said in a statement reports InsideHigherEd.com. "The goal of these changes is to minimize the need to gather in large groups and spend prolonged time in close proximity with each other in spaces such as classrooms, dining halls, and residential buildings." Best practices and social distancing are the best things you can do right now.
Meanwhile, over 1,000 students at the University of Cambridge have written to Graham Virgo, the pro-vice chancellor for education, calling on the university to radically change the way its summer exams are conducted, amid widespread concern the virus will affect exam performance. They suggest alternative modes of assessment, such as vivas conducted via video or coursework or postponing exams and dissertation deadlines, until restrictions such as social distancing and quarantining have been eased. Some of the institution's degrees are typically graded entirely on final-year exams.
What is "social distancing"? This now-viral term is one that "epidemiologists are using to refer to a conscious effort to reduce close contact between people and hopefully stymie community transmission of the virus," reports Kaitlyn Tiffany for The Atlantic. An appropriate social distance is staying three to six feet apart, and in lieu of handshaking or hugging, an elbow bump or fist bump, or no physical contact at all, is suggested. In short, it means whenever possible, avoiding contact with other people. Limiting your interactions in public means not going out to dinner, finding an alternative way to workout instead of going to the gym, and chatting on the phone with your friends using services such as FaceTime, Skype, and WhatsApp. Many people are finding creative ways to stay social via the virtual realm while limiting their person-to-person contact. TikTok in particular has been central to this, with people on the social network sharing information and fun 'challenges' to keep spirits up (such as keepy-uppies with a toilet roll instead of a football) and interact with friends and others. Even celebrities are joining the fun - musicians such as John Legend, Coldplay's Chris Martin, and Pink are holding solitary, impromptu concerts on social media, while others are reading children's books online to help quarantined families with bedtime and teachers whose schools have closed are offering their help to parents and children virtually.
Also, house-bound people in Spain and Italy have mobilized themselves on social media and demonstrated their support for the health workers fighting the coronavirus by collectively applauding them from their windows and balconies, while others have sang and played music together from their balconies! It may be comforting to consider how past great thinkers, artists, writers, and makers continued to work through historic quarantines like the plague all while staying both creative and productive. Memes of how Shakespeare survived the pestilence are popping up everywhere, providing levity and perspective. Great works were even inspired by the turbulent times these creators lived through. For example, in 1665, Sir Isaac Newton made "social distancing" work for him and ended up producing theories that would turn out to greatly impact humanity and our understanding of the way the world works. During an outbreak of the plague in London Newton "returned to his family's home in Cambridge, where he had long stretches of time to work alone on various questions that had been on his mind. While there, he had a breakthrough regarding the nature of motion and gravity," finds Tobias Carroll for InsideHook.com. Time will tell how this particular moment impacts our best minds and makers.
However, today, the most important best practices remain 1) common sense, and 2) washing your hands. Hand washing technique memes have popped up all over the internet with humorous sayings written underneath the traditional graphics for handwashing with soap and water. Keeping a sense of humour about it all in these tough times might just save your sanity, and keep morale up among your peers. For example, did you catch "TikTok" -- the Vietnam video dance that went viral? If not, take a moment to enjoy this creative genius, and don't forget that aside from regular hand washing, using hand sanitizer is also key to protecting yourself, and others, from infection. 3. Creative solutions to continue your studies
In response to the outbreak of COVID-19 some colleges and universities are canceling or suspending exchange programs and study abroad programs. And in affected areas, some colleges and universities are delaying the start of classes after Spring Break, closing campuses, or changing the mode of instruction. If you are part of an exchange or study abroad program, monitor your email and texts, and make sure you are signed up to receive the alerts from your college or university. 
While some classes and programs may be canceled entirely, technology is helping students around the world continue their studies during the outbreak. As well as allowing classes to proceed while university campuses are shut, online learning options help to limit students' exposure in affected areas. Your college or university might temporarily shift your classes to an online platform, which will require your professors and you to log in remotely and conduct classes virtually.  
At the start of the outbreak in Asia, "U.S.-based institutions with operations on the ground in China and Japan — including Temple University, NYU, Fort Hays State University, and Sam Houston State University — had just a few weeks to migrate all their classes online after cities came under quarantine," reports Anya Kamenetz for NPR.org, who also finds that "colleges and universities around the United States are now asking professors to prepare to do the same, and to familiarize themselves with video conferencing programs like Zoom, in the event that an outbreak keeps students confined at home."
Some companies, such as Zoom, Kahoot!, Google Hangouts, and Scholastic, are making their online platforms available for free -- starting with servicing elementary school educational opportunities. In the near future, these platforms may also become available for free in higher education. Zoom -- an online video-conferencing application -- and others like it, are essential tools to help connect students to teachers and online learning opportunities. Another helpful trend is media companies, like Comcast and Charter Communications in the US, who are providing free internet service for low-income students. 
Zoom CEO Eric Yuan said, "Given that many K-12 schools are starting closing, we decided to offer Zoom access to all K-12 schools in the United States." Additionally, Alex Konrad reporting for Forbes.com, finds that "Students or teachers who fill out an online form using their school email addresses and are then verified by Zoom will have any accounts associated with that school's domain also gain unlimited temporary meeting minutes, according to a site set up for the process overnight. The free Basic accounts are also available by request in Austria, Denmark, France, Ireland, Poland, Romania and South Korea."
4. Logistics -- getting reimbursed, student loans, finding storage space
If you are a student enrolled in a program that is canceled or delayed by the coronavirus, you might want to request refunds of your fees or credit back on your account for any part of your education missed or negatively impacted by the virus. You'll want to check with your college or university's registrar about the process.
For example, "Harvard said that room and board costs will be pro-rated for the rest of the year for students who are vacating their housing, adding that more information on calculating and processing those refunds is still to come," reports Harmeet Kaur for CNN.com. Additionally, "For families who have been affected by coronavirus that may no longer be able to afford certain costs, financial aid administrators do have the authority to adjust the cost of attendance or a family's expected contribution, according to guidelines from the U.S. Department of Education." However, if there is an option for your studies to continue on an online platform, colleges and universities are finding a way to offer those courses.
Many students, or recent graduates, may be concerned about paying their students loans right now. Some governments are temporarily reducing or waiving student loan interest rates during this crisis. The U.S. Department of Education recently issued a statement that "under the new policy, any borrower with a federal loan -- including those in income-driven repayment and in forbearance -- will have interest waived until the temporary policy ends," report Caroline Kelly and Sarah Westwood for CNN.com. Check with your student loan provider on deferred payment options, and find out more information from them, or your university's financial aid officers.
Concerned about storing your belongings if you have to move off-campus quickly? Some storage companies like Bee Safe and Wine Cellar are offering one month free storage space for college students. "This is not just a free month of storage, but also all move-in, administrative and lock fees are waived and there is no minimum rental term commitment on any size self-storage rental with a valid student ID. That means a student can store items in a storage unit for up to 30 days with no commitment," reports John Hammer for RhinoTimes.com. 
5. Stay informed with technology
Students studying abroad are advised to pay attention to their specific destination country's official health information, sign up for news alerts, and download relevant apps -- technology can help you stay informed. Your study abroad department advisor can provide you with more information, and if necessary, contact your local embassy for advice. If you are in the US, the Centers for Disease Control and Prevention (C.D.C.) and your local state health department update their sites daily. Signing up for their alerts will be key to getting the accurate information you need. For students in other countries, your local embassy or consulate will have links to reputable news sources and alerts.
Technology could continue to curb the spread of the virus, if used effectively, For example, 17-year-old Avi Schiffmann, a high school junior from Mercer Island outside Seattle, started a website (nCoV2019.live) in late December, when coronavirus had not yet been detected outside of China, that is tracking the spread of the virus. "I thought it would be cool if there was a website that could pull in all the information from all kinds of sources," says the high-school coder, reports Meghan Holohan for Today.com. "I mainly wanted to create something that would show the data as accurately as possible because there has been a lot of misinformation." Schiffmann continues to update this site daily and processes incoming correspondence from around the world to update the site in real time. 
In today's digital age, no matter what country you find yourself in, as a tech savvy student, you will be able to find the appropriate information to protect yourself from contracting the virus. There is a lot of information out there on COVID-19 and it's important to make sure you're accessing reliable websites and using reputable apps. Trusted and up-to-date sites include the Centers for Disease Control and Prevention site specifically for Coronavirus (COVID-19) and the World Health Organization's Coronavirus page.
6. If you need to be quarantined or evacuated, here's what you need to know
In recent weeks, many countries have taken extreme measures to contain and slow the spread of the virus, including limiting travel and closing borders. In most cases, citizens and residents of those countries have been urged to return home as soon as possible and many countries are working to evacuate their citizens -- including international students -- from abroad. If you are studying in a region that is experiencing an outbreak of COVID-19 or if your home country has indicated you should return home as soon as possible, contact your local embassy and stay up-to-date on potential travel plans. Be aware -- in most countries, people returning from abroad will be required to stay in quarantine for the standard two-week period, regardless of whether you were exposed to or are showing symptoms of COVID-19. 
You can prepare by packing and planning accordingly and by contacting your government and university officials before you travel. Governments around the world are making tough decisions on closing their borders and limiting travel in and out of their respective countries. "Countries across the world have imposed travel restrictions to curb the spread of the coronavirus, and the leader of the European Union on Monday said she would propose a 30-day ban on nonessential travel into the bloc. [...] This list, pulled from official government reports and the United States State Department, will be updated as new measures are announced," report staff writers for the NYTimes.com. 
The main takeaway of all of this if you are a student studying abroad, or enrolled in classes at a local college or university? Stay connected, stay safe, and make sure you do your utmost not to interrupt your studies. You can continue to attend classes that have not been canceled, unless instructed otherwise or if it becomes unsafe to do so. Enroll in online options as they are made available. Stay informed about how the coronavirus might affect you by signing up for news alerts, contacting your public health officials, and paying attention to news cycles-- the more you know, the better off you'll be. Don't forget to practice social distancing and proper handwashing. Finally, when in doubt, stay at home and study from the comfort of your own couch